How to start a Podcast as Mortgage Loan Officer
Mortgage podcasting for loan officers can generate you millions in revenue, increase your audience 100% and establish you as an authority figure on your preferred mortgage niche.
If you're stuck with your blog wondering how to shore up numbers or wondering how to breathe a new spark into your blog business, podcasting could be the smartest moves you make this year.
Podcasting, a term, and concept that is indeed growing in popularity is a by which to distribute audio or video files. Podcasting actually came from the words broadcast and iPod. The iPod, a popular MP3 player has really helped to launch the popularity of the podcast.
One of the easiest and most popular platforms to a podcast in 2020 is Podbean. Podbean is a podcast publishing and monetization service, providing free and premium hosting packages for individuals and businesses. Podbean offers a user-friendly interface that integrates publishing, management, syndication and analysis tools into an easy-to-use podcasting package.
Here is how a loan officer can start podcasting with Podbean:
Step 1: Go to podbean.com, then click on the "Login" link at the top or create a free account first then login. You will be asked to login to your Podbean account and then taken to your dashboard.
Step 2: Go to "My Podcast" page, and click the "Publish" button. Then, you can click on "Choose File to Upload" to upload your media file (see supported file types). Alternatively, you can use a media file already uploaded to your account ("Select from Account") or publish text-only (for show notes with no audio or video content).
publish podcast
Step 3: In the publish screen, you will see your newly uploaded file under "filename". You can now write the episode title, add an image (your channel logo will be the default if you do not upload one) and write the show notes/description in the editor. You can also choose if this will be free or premium content here.

Step 4: Once completed, click the blue "Publish" button at the bottom. Click the right arrow for other options: you can"Save as Draft" if you are not ready to publish or select "Publish on" to schedule the podcast for a different time/date.
Below are the top loan officer podcasting tips:
1. Niche your way to riches. Finding the exact market that needs what you have to offer is one of the primary keys to success in your mortgage business. Taking a shotgun approach and foolishly believing that "everyone" needs your product or service is the quickest way to failure. You need to be able to identify and describe your niche market, from determining what problem the niche market is actively trying to solve and what they'll pay for (as well as how much they will pay) to what publications they read, what groups/associations do they belong to, and where they hang out both on- and off-line. The more narrowly focused your niche, the better. So, Home Purchase Loans is a better-defined niche than Mortgage, and FHA Home Loans is better than Home Loans.
2. Acknowledge your expertise. One of the great difficulties of loan officers is their inability to acknowledge their expertise in an area. It took me years to realize that while others did have a higher level of expertise than me, there was a very large group of people who knew less than me -- and it was to those people I could become an expert! And, better yet, they would pay me to learn it so they didn't have to go through the same trial-and-error method I did.
3. Create a content-packed web site. Content relevant and useful to your target market, embedded with keywords that your target market might use to find you, are the magic wands that enable you to be found on search engines. For years, my web site was simply an online brochure with details of my service offerings. It was not until I regularly started writing articles for my target market and posting those to my web site and the blog did I see a noticeable increase in both the amount of traffic to my web site as well as in my number of newsletter subscribers. If you've been in business for a while, you've got a good idea of the problems that your customers face. Your articles can serve as the solution to the common problems and questions of your target market.
4. Build relationships online. Even though an online business is virtual and you meet a few of your clients and prospective clients face-to-face, it is still possible to build trusting relationships online. The most important thing to remember is that your personality needs to shine throughout all of your online ventures. So whether you share personal stories about your life or business (these will be very popular with your visitors), or write articles or web site text in the same way you speak, you need to give visitors an experience of what it means to do business with you. You can also use audio and video on your web site as well as photos of you in action in your business. Remember, most people need to get to know, like and respect you before they'll decide to buy what you have to offer.
5. Discover reputable sources of technical and Internet marketing "how-to" information. Online technology and Internet marketing strategies change from moment to moment, and it's tough to keep up with the latest and greatest innovation.
6. Provide a clear call to action. Web site visitors generally want some direction in what action they should take next. Whether they visit your web site, attend your speaking engagement, read an article you've written, or listen to one of your podcasts, they want to know what to do next to stay in touch with you. The call to action I always recommend is to get people to subscribe to one of your "stay in touch" devices. It's no different in an online business, where the name and email address of your visitor is gold. Make it simple for someone to decide to initiate a business relationship with you -- have your call to action in your brochure, on your business card, on every page of your web site or blog, and in the audio of your podcasts.
7. Don't expect overnight success. Despite what the television ads might state or what the information products might claim, success in the online world doesn't happen overnight. There will be a few who will spot a profitable trend before anyone else does, but eventually, the income will fizzle and they'll have to find another profitable trend. Just like any other business, an online business takes a great deal of time and attention. Some of the tasks can be automated, but you still have to pay attention to what's happening so that you can effectively create your marketing and promotion strategy.
Click on the image below to start your Mortgage Podcast right away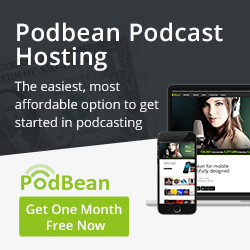 Stay connected with news and updates!
Join our mailing list to receive the latest news and updates from our team.
Don't worry, your information will not be shared.
Subscribe